The Rite in the Rain DOPE Logbook is the perfect accessory for the precision rifleman. No superfluous data or cumbersome forms - just the straight DOPE.
We distilled this book down to only the fields most critical for future reference as you dial in for a first-shot hit. This 4" x 6" book is easily pocketable and its weatherproof construction will save your hard-earned notes from weather or even a wash cycle.
Simplified DOPE Form makes recording and referencing easy.
Reference material includes Wind Calculation and MOA/MRAD Conversions.
DOPE Logbook Features
REFERENCE
Reference material includes wind calculation and MOA - MRAD conversions.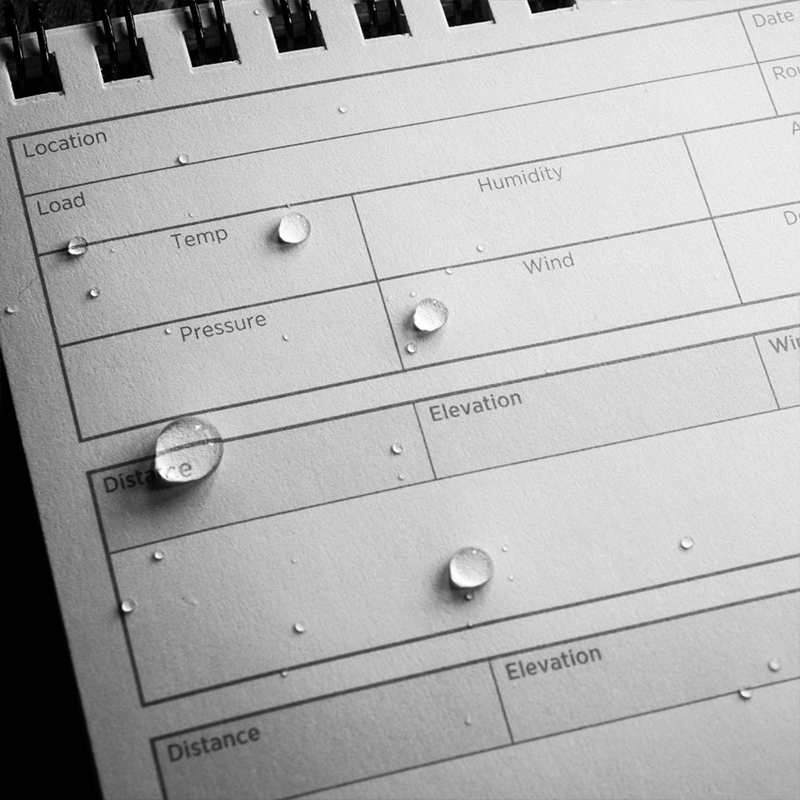 DOPE FORM
Simplified, distilled form design makes recording and referencing easy.
ALL-WEATHER
Weatherproof construction will save your data from rain, sweat, and mud.
COVER
COLOR: Black

MATERIAL: Polydura, 19 gauge

REFERENCE: Wind effect chart, MIL and MOA rulers, conversion charts, imperial and metric rulers
BINDING
STYLE: Wire-O

PROPERTIES: Rust-resistant

FINISH: Rounded corners
ALL-WEATHER PAPER
COLOR: Gray

SHEET SIZE: 4" x 6"

PAGES: 104 pages / 52 sheets

WEIGHT: 20#

Rite in the Rain

PERFORATED: No
PAGE PATTERN
PATTERN: D.O.P.E. Form (front), Universal (back)

INK COLOR: Dark gray

NUMBERED: No

TITLE PAGE: Yes / View

sample pages.
IDENTIFICATION
ITEM NO: D746

UPC: 632281101253

NSN: 7530-01-693-7874

ISBN: 978-1-60134-282-9
SINGLE UNIT
SIZE: 4" x 6.25" x .375"

WEIGHT: .21 lbs

MANUFACTURED: U.S.A.
PACKAGE
QTY: 1

SIZE: 4" x 6.25" x .375"

WEIGHT: .21 lbs