The Hybrid MT2 by CrossBreed Holsters is a combination of two of your favorite holsters built together to give you the ultimate in comfort and retention. The Hybrid MT2 is the little brother to our newly released Hybrid ST2, which features customer suggestions from 15 years of customer feedback, from people just like YOU!
The Hybrid MT2 features the adjustable retention pocket featured on our wildly popular Reckoning AND Mini Reckoning Holsters, with the comforts of a compact MiniTuck style backer. The leather backer is designed to spread out the weight of the firearm while being no bigger than needed for mid-size to compact handguns. The leather backer is also designed with a "Straight Drop" or zero forward or reverse cant, which can be adjusted for the desired cant by simply offsetting the front and rear clips.
The Hybrid MT2 also features our upgraded "Combat Cut" option found on all CrossBreed MiniTucks. This option allows for a better grip on the firearm, making the draw easier on small to mid-size handguns.
The pocket of the Hybrid MT2 features multiple points of retention, allowing you to customize your draw to your preference. By simply tightening or loosening the mounting screws your firearms retention will be custom-tailored to your body type.
---
Leather Options: Black Cowhide (Horsehide and Founder's Leather available on special order)
Kydex Options: Standard Black (FDE, Sniper Grey, OD Green available on special order)
---
This holster is great for firearms such as:
Glock 26
Glock 27
Glock 43
Glock 43X
Glock 43X MOS
Sig P365 (and variants)
Sig P365X (and variants)
Sig P365XL (and variants)
---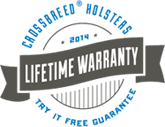 8.0" x 1.5" x 6.5"

Made in the USA